Standard Tech
Posted on April 11th, 2011
Article is taken from the Marty Rathbun's Blog:
http://markrathbun.wordpress.com/2011/04/09/more-on-service-facsimilescomputations/
---
At Kay's suggestion I am posting below the HCOB I referenced in last night's post, Anatomy of a Service Facsimile.  I encourage folks to read it in its entirety.   One reason I posted about it in the first place, and the same reason I check it out on most folks once associated with Scientology Inc is as follows.  I have found that a great percentage of people who once considered themselves members of corporate Scientology had to come up with the most fantastic computations in order to survive within the Scientology Inc community.
Attempting to scale the Bridge toward more freedom, self-determinism, and individuality folks within Scientology Inc find themselves in a culture continuously attempting to strip away those very abilities.  It is like a salmon attempting to swim upstream against the most violent currents.
In that culture one is never permitted to inspect or talk about the counter current – the one that is there every day continuously and forcefully being applied against one.
Posted on April 11th, 2011
Article is taken from the Marty Rathbun's Blog:
http://markrathbun.wordpress.com/2011/04/09/restoration-of-tech-service-facsimiles/
---
Early on in the history of this blog RJ and I had an exchange about the "lost tech" of Service Facsimile handling in Scientology Inc.   Since, during more than a year of being subjected to daily doses of Scientology Inc's dramatization of Miscavige's Serv Facs, we have calmly and consistently gone about restoring the powerful technology of service facscimile handling.
In a Class VIII lecture aboard the Apollo in 1968, LRH told the original Class VIII's that the route in Scientology had been taped by 1966.   If one fully understands that taped route, as preserved in the Saint Hill Special Briefing Course (SHSBC) lectures, one cannot help but notice the utter enthusiasm LRH expresses during his lectures on the culmination point on the route to Clear and OT: Service Facsimile handling.  Listened to in sequence – after hundreds of lectures, LRH's tone changes noticeably.  Why?  Well, here is LRH's description of the ability gained when one truly handles his or her real service facsimiles:
"Moving out of  fixed conditions into ability to do new things."
Wait a second!  Isn't the hope for just that the very reason why most people began studying and applying Scientology in the first place?
Posted on February 1st, 2011
http://www.scientology-cult.com/knowledge-center/re-opening-the-training-bridge.html
We have set up, by necessity, an Independent Scientology course room, not affiliated with DM's because we want to practice Scientology and due to DM's 'Unclean Hands' (a doctrine in equity) we have been compelled to do so. We can't get real Scientology from DM's church anymore, because it isn't there and because he prevents us from getting it. So, here we are, with a First Amendment right, to practice our chosen religion, as guaranteed by that First Amendment and also put forth by L. Ron Hubbard himself in the Articles and Bylaws of CST differentiating a Church of Scientology (including RTC) from the 'religion of Scientology'. http://community.freezone-tech.info/courseroom/
My name is John Aaron Williams and I joined the SO in July 1988. With no Scientology Courses done I routed onto the EPF and when completed went directly to the 800 Unit (Dianetics Hotline) in CMU (Central Marketing Unit) where I counseled many thousands of people. In 1992 I went to Bridge Publications and was there till I went to PAC Renos and out in August 1995. When I left I was Clear and had completed OT Eligibility. The Sea Org story is saved for another time.
After leaving it took a while for me to rebuild my life but I did. I started a computer networking consulting business in LA and did pretty well with it.
It was obvious to me that something was very wrong with the church even then but I attributed it to the IAS as I did not know about how far out over the deep end DM had gone. The IAS was most obviously out ethics and off policy. It was so out exchange with the public that it was nothing short of a criminal organization.
I wanted to do something about it and a friend of mine said I couldn't fight it unless I was in good standing so I decided to pay off my freeloader debt.
In Feb 2008 I paid it off but it then took 8 months to get my CSW approved as I refused to donate as amends as that is a violation of policy. The Senior MAA PAC told me she would not approve my CSW after we had a loud discussion about it in the reg area at CLO WUS. It was approved in Nov. of 2008 with no donations.
Criminal Exchange
I started doing the Basics at the Mission of the Foothills. While on the second Basics course at the mission I went on break and noticed a piece of promo from Valley Org offering me a chance to "Join the $500 Club". I had a few minutes to kill and so read it. It was offering me the "chance" to give them my money for nothing in exchange except for membership in their club of nothing. I was a bit aggravated and knew I needed to do something about it.
Once I got home I started drafting a "Things That Shouldn't Be" report (click to view) and sent it off to RTC on the 2nd of Feb. 2009. Read the rest of this entry »
Posted on February 1st, 2011
Thursday, 30 December 2010 17:53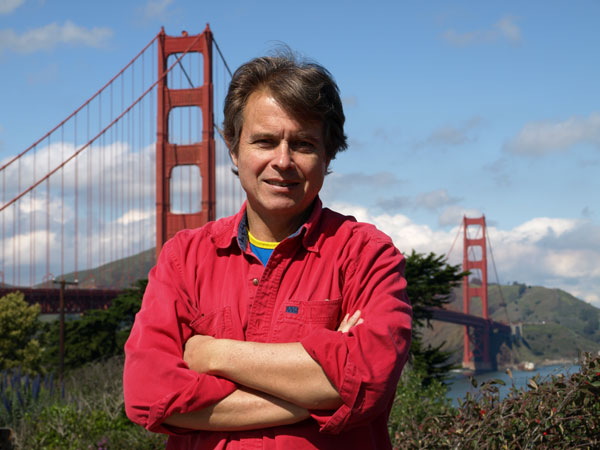 Dan Koon (aka Joe Howard) today
Jimmy Rebel and I have been working for some time now to make it possible for people to do auditor training outside of the formal Church of Scientology, which many feel has become so weighed down with arbitraries and extraneous demands on their time and bank balances as to make it virtually impossible to learn the subject.
For over 12 years I worked in the LRH Technical Research and Compilations Unit in the Senior C/S International Office in the Sea Org. I was in the unit while LRH was on the lines directing the unit and worked there for an additional 10 years after he passed away.
LRH's viewpoint on training was that training should be fast and auditing should be more drawn out, both receiving and giving. In other words, people should train in order to learn how to audit and while gaining experience as auditors they would become better while continuing to improve their knowledge of and ability to apply the technology.
The Year of Tech Breakthroughs: 1978

In 1978, LRH undertook a review of Academy training. He found that the Academy Levels had become overly long and had become a mish-mash of all kinds of tech not, strictly speaking, related to Academy Level training, which was supposed to be directed towards teaching students to audit the Expanded Lower Grades, ARC Straightwire through Grade 4. Read the rest of this entry »
Posted on November 8th, 2010
80 times around the Sun on a space ship called "Planet Earth".
Posted on October 15th, 2010
Rey R. Robles was born and raised in the San Francisco Bay area, Graduated with 2 college degrees from the University of Sonora State.
Rey got into Dianetics and Scientology at the age of 22 and in 1969 went from Concord Mission straight to the Briefing Course at ASHO in LA…
After 20 years in the Church Rey continue auditing in the Free Zone for all happy and successful another 20 years with wife Leslie whom Rey has been married with for over 25 years.
Rey finished his NOTs in the Free Zone. All services that he offers in the FZ he has been trained by some one who was trained by LRH or Capt. Bill.
For more information visit http://freezoneworldwide.info
or call 1(775)971-9419
Posted on October 9th, 2010
I stay with my truth that a war – any war – can not be won by defeating the enemy. That is not a victory in a whole sense of it.
Justis is not a handling, it is a temporary coping with a situation in an absence of Ethics.
In view that "the war" is fought not between "good" and "bad" individuals, but on a bigger picture it is a Theta – enTheta confrontation, from this view point the only true victory will be dis-enturbulating enTheta and converting it back into Theta.
Do you really think it can be done by criticizing, evaluating or making somebody wrong? Even if they are wrong, or especially when they are wrong?
What does LRH say about handling the low-toned people? The lower they are, the higher the auditor should be. Thus you do not handle anger with anger, or 1.1 with anger etc. This way we all lose and the whole ship may sink.
We should stop fighting, no matter who first started that fight, because we will not win through the fight – non of us will win.
We can only win for real with LOVE.
The position on the tone scale is determined by proportion of theta – entheta. So if we want to handle DM for good all we need to do is to move him up tone. He is one of us, us all living on this planet. We are the group. And we can raise a group tone level.
If DM doesn't go in session, we can use other tools described in the Book One – Dianetics. What else do we have  in our tools(!) (not weapons!) arsenal besides auditing? Ethics in, Training, Non re-stimulative (THETA) environment, and LOVE.
I wonder, what would happen if we all find something in DM that we can honestly respect, truly like, admire or love. What if we all send him our affinity? How is it going to change him, us and the whole world?
We also know, that enTheta will dis-enturbulate in the presence of greater amount of Theta. And this is also a tool that we can use. We can create a theta bank – that unlike a bank of engrams, it will contain THETA.
We can do it on the Internet placing there Theta messages, collecting them in one place or on the different, but linked together websites. I should say we can reflect it, represent it on the Internet, but it's actual existence will be in the THETA universe. We do not really need to confront the bodies in order to improve the conditions of thetans. We do not need to break apart and empty the churches in order to fix them and to fill in again. The reformation can and should be done with a very light touch. The heavier the mess – the lighter the touch.
Lets create a group that is bounded together by common purpose to improve conditions in own and lives of others using scientology and by SHARING THETA! We have to make us all REAL to each other by creating and collecting video-interviews introducing ourselves as Scientologists and showing the true Scientology products. We have to stay in COMMUNICATION by posting and acknowledging Scientology wins and successes, by coming to the conventions. But let's keep our websites and comm-lines clear from enTheta. By doing this we will raise the AFFINITY so high, that people in the church will come to UNDERSTAND what is been missing in the church. So, if you feel like OUT-FLOWING THETA, welcome to the Success Stories, Wins and Testimonials website! http://freezone-tech.info/success/– comment and post! Lets collect all that pleasure moments!
It all may seem naive, but that is what I believe in and what I support to the best of my abilities.
If you are willing to record and add your video to my collection on http://youtube.com/svetka812 – upload your video to youtube and send me a link. If you like me to register you on the Success website (link above) that enables you to post your wins there – just drop me a line here in comments (You do not need to register in order to comment).
With Love and Hope,
Tatiana Baklanova.
Posted on October 2nd, 2010
A Short Course by David Griffin
Taken from: http://groups.google.com/group/alt.clearing.technology/browse_thread/thread/0503754426bca4e9/e074bf1161a73d5b?show_docid=e074bf1161a73d5b
Part 1 – Takeover of the Church
theta –
"theta is thought, life force, elan vital, the spirit, the soul, or any other of the numerous definitions it has had for some thousands of years."  L. Ron Hubbard, Science of Survival
thetan –
"the living unit we call, in Scientology, a thetan, that being taken from the Greek letter theta, the mathematical symbol used in Scientology to indicate the source of life and life itself."
"the being who is the individual and who handles and lives in the body."
"the personality and beingness which actually is the individual and is aware of being aware and is ordinarily and normally the "person" and who the individual thinks he is.  The thetan is immortal and is possessed of capabilities well in excess of those hitherto predicted for
man."
overt act –
"an intentionally committed harmful act committed in an effort to to resolve a problem."
"that thing which you do which you aren't willing to have happen to you."
L. Ron Hubbard, various writings
=====================================================
=====================================================
Scientology, the subject, is merely a collection of data, organized and codified, concerning the mind and spirit, their relationship to each other, the physical universe, and other beings, among other things:
"Vast libraries could be filled with the scraps of information gathered in the course of this search.  The great achievement of Scientology has been the culling of truth from this sea of data and finding that the truth was a tiny group of data possessed of the overwhelming power of changing all other facts in this universe and livingness.
The Opening of the road depended upon the success of codifying this information so that it could be relayed to others."
L. Ron Hubbard, Scientology 0-8
————————————————————
The purpose for doing this was to help mankind:
"My purpose is to bring a barbarism out the mud it thinks conceived it and to form, here on Earth, a civilization based on human understanding, not violence."
L. Ron Hubbard, Scientology 0-8
"The mission of Scientology is not conquest – it is civilization.  It is a war upon stupidity, which leads us toward the Last War of All."
L. Ron Hubbard, Scientology The Fundamentals of Thought